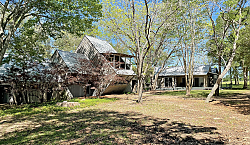 Regional Weekthun Retreat
We invite you to take this opportunity to retreat into a simple life of practice and rest for a weeklong meditation retreat in the beautiful environment of the Auspicious Cloud Retreat Center in Chappel Hill, Texas.
This year, the retreat will proceed even if we have a small number of participants. Space may be limited; please express interest as it arises and register as soon as possible, so that we can proactively manage the space limitations.
If you have any questions or issues regarding this retreat, please contact Teresa Spicer.
Click here for more information and for registration: