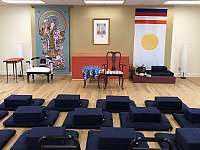 Integral Meditation Book Study
with Anna Veronesi, Susan Singh, Scott Spicer
In this book Wilber describes the stages of growing up, the states of waking up, and offers meditation techniques aimed at progressing through them to best show up for our lives.
Here is an exert from the book:
Integral Meditation
focuses attention on the inner "maps" we use to navigate life - in relationships, at work and study, in play, in just about everything we do. Mindfulness is used to unearth these unconscious maps, then uproot them so that we can substitute happier and healthier perspectives. With experiential exercises, guided meditation instructions, and tools to identify tiny the individual's own greatest potential, this book points the way to realizing our Supreme identity - and to finding the reason why each of us has come into being: to embody and express in the world our unique perspective of Spirit.
Shambhala has a
generosity policy, if you are unable to pay the registration fee please email us and we will work out an acceptable discount.