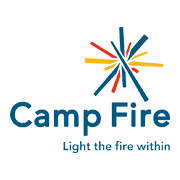 Camp Fire's Mindfulness Club
with Xochitl Hilbert
Camp Fire's Mindfulness Club
Camp Fire is a contemporary, inclusive, organization working with community partners, like the Tulsa Shambhala Meditation Center, to engage young people and their families in high quality youth development programs.
Camp Fire works to help young people find their sparks, lift their voices, and discover who they are.
Camp Fire's Mindfulness Club is a safe space for teens to build community and explore the basic goodness of their humanity through a variety of fun, educational, and meditative activities that connect them to their passions and interests while supporting their social and emotional development, and encouraging them to embrace their relationship with nature and the world at large!
Mindfulness Club is a program that requires no prior knowledge or experience with meditative exercises. Our club leaders will instruct participants on how to begin meditation and will help find what works best for each youth.
For more information or to join Mindfulness Club, contact Michelle Lozano at 918-592-2267 or [email protected].
To learn more about Camp Fire Green Country, visit www.tulsacampfire.org