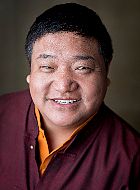 The Enlightened Female Master Dakini Yeshe Tsogyal with Orgyen Chowang Rinpoche
The Enlightened Female Master Dakini Yeshe Tsogyal
Join meditation master
Orgyen
Chowang Rinpoche for this special afternoon teaching on the life story, activities, and practices of the enlightened female master Dakini Yeshe Tsogyal.
On this Sunday afternoon from 1-5:30 pm we will receive teachings on the enlightened female master dakini, Yeshe Tsogyal. Her name means literally "wisdom ocean queen," and her unique manifestation is associated with the development of genuine non-dual wisdom.
Following these rich teachings Shambhala Tulsa will offer a tea reception from 5:30-6:00pm.

Tibetan meditation master Orgyen Chowang Rinpoche will share his wisdom and teachings of the life story, activities, and practices of this enlightened female warrior.

Orgyen Chowang Rinpoche is a meditation master in the Nyingma lineage of the Buddhist tradition. He studied for nine years at Larung Gar in Serta, eastern Tibet, with his teacher, Jigme Phuntsok Rinpoche, who is widely acknowledged as one of the greatest Dzogchen meditation masters of the twentieth century. Orgyen Chowang Rinpoche lives in the San Francisco Bay Area and is the founder and spiritual director of Pristine Mind Foundation. Orgyen Chowang Rinpoche is the author of Our Pristine Mind: A Practical Guide to Unconditional Happiness.