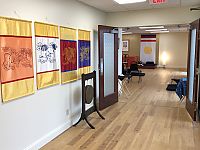 First Sunday Cafe
This Monthly Gathering is a perfect introduction to the Shambhala teachings and mindfulness meditation, as well as an opportunity to connect with other practitioners. It consists of group meditation instruction and practice, opportunity for questions, and a light reception. Individual Meditation instruction is also provided upon request.
This open house is an opportunity to meditate in a supportive group setting, to learn about how to apply the principles of meditation to everyday life, and to meet and mingle with others interested in mindfulness. Bring your friends!
Open House schedule:
10;00, group meditation instruction, sitting and walking meditation
11:30 – 12:00, tea, snacks, and conversation.