Dear Friends,
Given all the new information available today and based on a consensus among leadership and members we are sadly closing the Center for meditation sessions and classes.  Thank you to each of you who provided thoughtful and heart felt input.
We have changed our Open Meditation Tuesday night class information to include a ZOOM link so that people can join in.  I hope you will consider joining me as I lead the session from my shrine room at home in Drumright this Tuesday evening at 6:30 pm.  It is a grand experiment and I hope to see you there.
Just click on the ZOOM link below (or copy and paste into your browser.
With appreciation and the mind of meditation,
Deborah Bright
Topic: Tuesday Evening Open Meditation
Meeting ID: 490 555 528
Midweek Meditation, Wednesdays at noon, will be meeting on Zoom at this address:
Join Zoom Meeting  PASSCODE   TSMG
Meeting ID: 841 8519 0036
Passcode: TSMG
First Sunday Cafe
10:00am to Noon on the first Sunday of each month.
PASSCODE: 1234
This Monthly Gathering is a perfect introduction to the Shambhala teachings and mindfulness meditation, as well as an opportunity to connect with other practitioners. It consists of group meditation instruction and practice, opportunity for questions, and a light reception. Individual Meditation instruction is also provided upon request.
This open house is an opportunity to meditate in a supportive group setting, to learn about how to apply the principles of meditation to everyday life, and to meet and mingle with others interested in mindfulness. Bring your friends!
Spark your heart and mind through the practice of meditation.
Shambhala Vision is rooted in the principle that every human being has a fundamental nature of basic goodness. This nature can be developed in daily life so that it radiates out to family, friends, community and society.
Shambhala is an international community of urban meditation and rural retreat centers founded by the Vidyadhara Chögyam Trungpa Rinpoche, and now led by Sakyong Mipham Rinpoche. Learn about our vision, lineage & community. More →
As a developing Shambhala Meditation Group, we offer weekly and monthly opportunities for sitting meditation.  No prior experience required to attend.  All are welcome. More →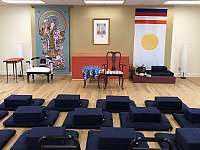 with Anna Veronesi, Susan Singh, Scott Spicer
April 7th—May 5th
In this book Ken Wilber describes the stages of growing up, the states of waking up, and offers meditation techniques aimed at progressing through them to best show up for our lives.
Continue »